Brittany's beginning
Brittany first came to MSU in the fall of 2010. As a first-generation college student, she was then adapting to life in college and focused on finding herself, being an adult, paying bills and being independent.
In spring 2010, Brittany graduated from Mumford High School in Detroit, where she was ranked fifth in her graduating class. She said she felt she should have been capable of achieving success at the college level — however, her extensive extracurricular involvement took a toll.
"I was involved in 12 different organizations, I was on E-board of three of them," Brittany said. "Anytime I wasn't in class, I was out in meetings or programming."
Her extracurricular involvement affected her well being.
"Normally when I was in class, I was asleep or thinking about all of the things I needed to do when I got out of class," Brittany said. "I just wasn't focused."
On top of her various activities, Brittany was also working to help pay for college. As a result of this involvement, her grades began to slip. She turned to her academic adviser for advice.
"I took a break after being told by an academic adviser that I needed to drop out," Brittany said. "I was really trying to find myself. I couldn't figure out what it is I really wanted to do, why I was here. What is it that I want to gain from college? Why am I here? I'm here to get a degree."
From 2011 through 2014, Brittany attended Lansing Community College.
"I was still trying to take classes so I wouldn't lose focus completely, because I know I needed to graduate," she said.
It was during that time frame that Brittany reconnected with a classmate from the high school she attended in her freshman year, Logan's father.
The two started dating in the August of 2014. Logan was born Dec. 3, 2015.
"We were living together in Lansing when he was born, but we started bumping heads right after he was born," Brittany said. "It was rocky throughout the relationship, but then it got really rocky when he was born."
The day before Valentine's Day in 2016, Logan's father gave Brittany a two weeks notice that he would be moving out. At the end of the month, he moved back to Detroit to live with his parents, leaving Brittany in Lansing with Logan.
"He left me pretty much with nowhere to go and no money," Brittany said.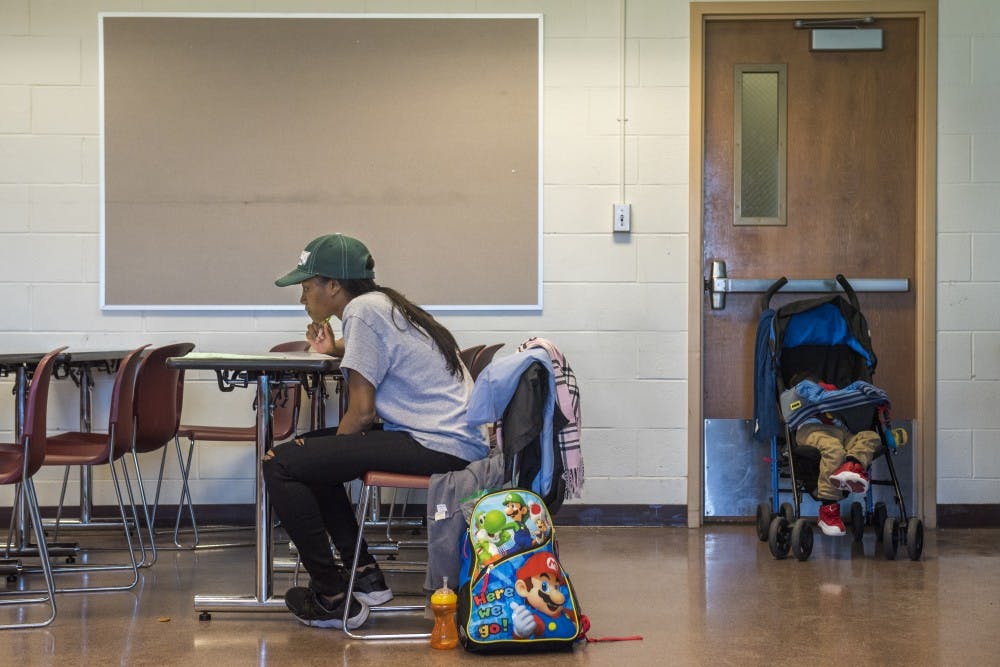 Brittany wasn't able to make any money for herself at first because, without Logan's father, she became Logan's full-time caregiver. She and Logan's father had planned for their work schedules to alternate with each other so that whoever wasn't working could watch Logan.
When Logan's father left, she was evicted from the apartment she and Logan's father shared. For a few weeks, she was homeless.
"I moved in with some friends. I was pretty much sleeping on the couch with my kid trying to figure it out in Lansing," Brittany said. "I tried to apply for government assistance, but they told me because I was technically still a student, I didn't qualify."
Brittany said she felt lost.
"I didn't know where to turn," Brittany said. "I didn't feel comfortable asking people for help with my baby. I felt it was my responsibility."
Finding her path
Brittany moved into her aunt and uncle's house in Detroit in March 2016, with no concrete plan about how long she would be staying there.
"I had lost hope," Brittany said. "I was in a really deep depression, I gave up on school. I was like, whatever, I'll work, I'll figure it out."
Brittany quickly found work as a medical assistant; however, she was still struggling to afford basic necessities, including Logan's daycare.
"At one point, I was using rags and soap to wipe my baby's butt because I couldn't afford wipes," Brittany said. "I called (Logan's father) and told him I needed wipes and diapers and he told me it sounded like a personal problem."
She struggled to imagine how the future would look. It might have been fate for Brittany to connect with a family friend, Deodge Hill, soon after she moved back to Detroit.
Hill was herself a single parent who had completed her degree while raising a child. Moreover, Hill had just started PH1LL Foundation, an organization that provides programs, resources and scholarship opportunities to single parents. Since the PH1LL Foundation was formed in 2015, it has given out $18,000 in scholarships to single parents.
"All summer we went back and forth to Michigan State, " Hill said. "I took her to find housing; I took her another time to help her get daycare going and to actually try to find some resources at Michigan State."
With the help of Hill, Brittany returned to MSU in the fall of 2016.
However, she wasn't able to leave Detroit entirely. In August 2016, Brittany entered a court battle for custody of Logan.
The bitter trial lasted throughout her second stint at MSU. She received little support from her family.
"My own mother testified against me to try to get (Logan's father) custody of my son," Brittany said. "I'm not going to dwell on that because that hurts more than anything."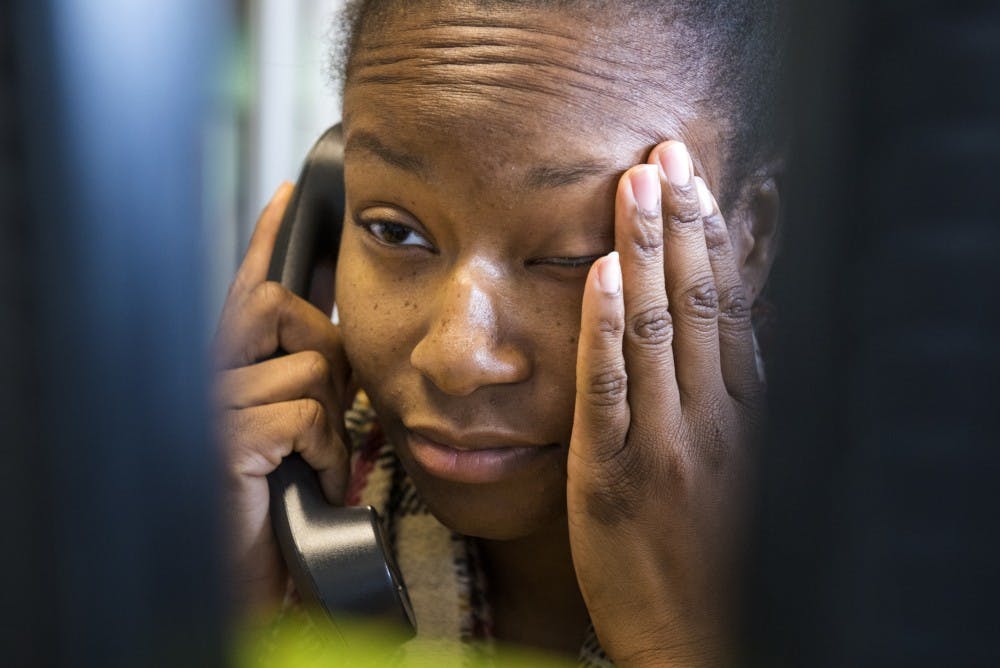 With so many responsibilities, Brittany needed to find someone to watch her son.
She looked into the daycares affiliated with MSU, but they each had waiting lists of more than a year, so she settled on a daycare in East Lansing.
In December 2016, Logan came home from daycare with bruises. That was the start of a pattern. A few weeks later, he came home with a busted lip.
"His lip was black and purple as if somebody punched him," Brittany said. "They tried to tell me he nibbled on his lip."
One day he even came home with a bite mark on his cheek, which lasted for two weeks. That was the last straw for Brittany. She decided to pull him out of daycare, and without any other option, brought her son to class.
"I kept my son with me throughout my finals week the fall of 2016," Brittany said. "He went to every final with me and I took my finals. I was not taking him anywhere. I didn't trust anybody."
In the spring 2017 semester, Brittany's close friend and MSU alumna Janet Carr babysat Logan as Brittany looked for a new child care program.
"I already knew that I wanted to support her because she was fulfilling her goals and she was getting to where she needed to go," Carr said. "She just needed help. That's what friends are for."
Carr first met Brittany in 2010 during their freshman seminar class, and they later became friends after they joined the MSU Gospel Choir.
Carr's understanding of who Brittany is as a person changed after Brittany became a mother.
"It was a tremendous change, because she definitely grew up," Carr said. "She matured. Now she's more focused, she has an even greater drive than before."
While Carr helped in the spring of 2017, Brittany was able to find sufficient child care for the fall semester through SonShine Early Childhood Center in Holt, nearly a 30-minute drive away. This year, Brittany has made the drive to SonShine every day before and after class or work.
Carr noted that Brittany isn't just striving to make her own dreams come true. Brittany strove to graduate college in order to make a better life for Logan. Carr felt compelled to help her friend with that mission.
"Whatever she needs, I'm her support. She supports me as well," Carr said "We're just there for each other. It's a sisterhood that can't be broken. It's definitely one that's going to last forever, and I'll always be there for her and Logan, whenever they need me."
Brittany, her munchkin and their future
Brittany has needed support from multiple sources in order to make her return to MSU with Logan work.
"I never saw myself having to have a kid that wouldn't be with both of their parents. I never wanted to raise my kid in a broken home; I never wanted to do that, but I know that trying to make it work with his dad would just take more of a toll on our son than anything and I wouldn't want to put my kid through that."
Getting her professors to support her situation has been a hit or miss.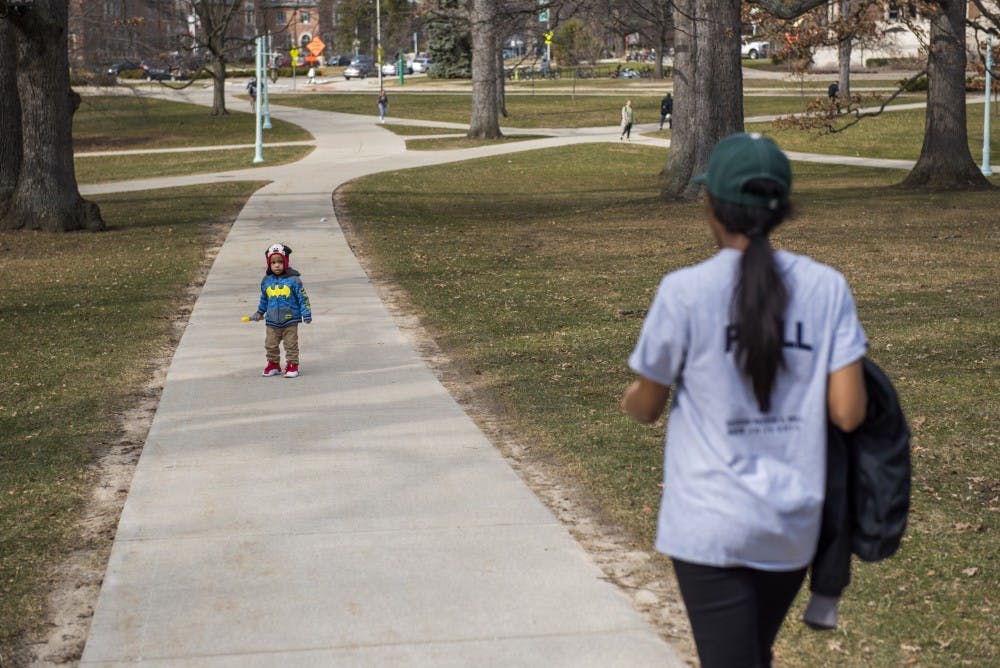 This adds stress in balancing her life.
"I've had understanding professors that have kids that know what it's like, that have went to school with kids," Brittany said. "I've had also professors that are like, 'That's not my problem, figure it out.'"
Kimberly Steed-Page, a coordinator at the Student Parent Resource Center, said between 5 and 10 percent of students at MSU are parents. She estimates that about one-third of those students are single parents.
Brittany's professor, Sarah Douglas, understands her situation. Douglas said she could understand why some professors might avoid making accommodations, but she felt compelled to help Brittany.
"I don't think it's going to help her get a degree and make the world better for her family and for herself, and just for her to be able to contribute to the world in general if that's the approach that's taken," Douglas said.
Douglas described Brittany as resilient, hardworking and optimistic.
"She seems to get along really well with the other students in the class," Douglas said. "She has a great sense of humor. A lot of people, when they're in difficult circumstances sort of become angry or withdrawn and she's not that way at all. She really tries to make the most of every day that she has and make it the best that she can."
Along with her classes, Brittany also works one day a week in Human Resources at Brody Square.
"I have to remind myself why I'm here," Brittany said while at work. "I try to stay grounded and level-headed, but it's harder sometimes than others."
Her workspace is filled with gospel music, and she has a picture of Logan sitting beside her monitor.
Brittany credits a lot of her success to her faith.
"I literally walk by faith, not by sight."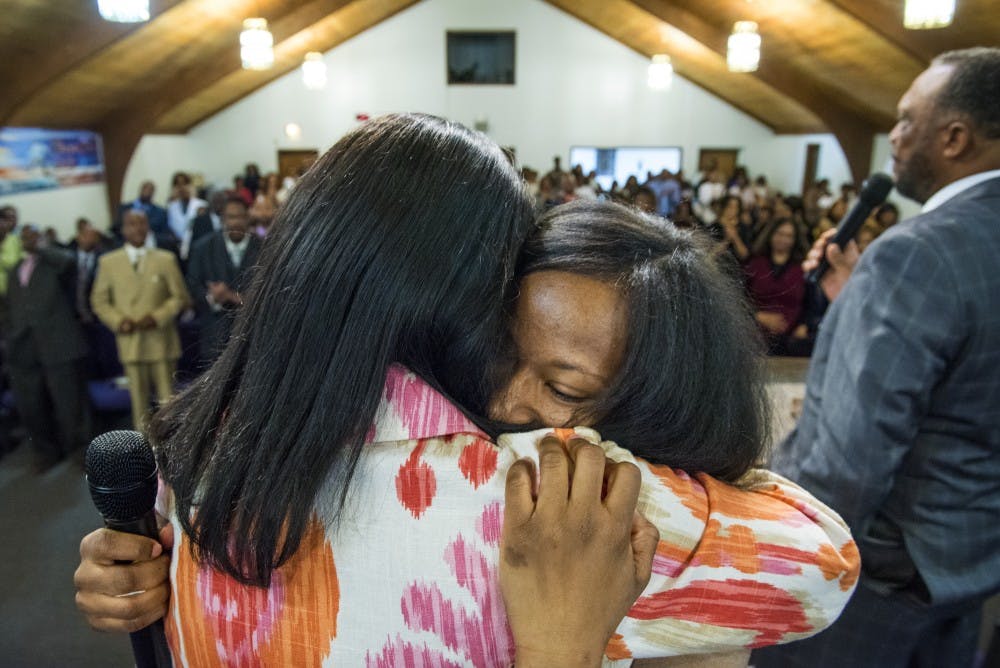 The spring semester 2018 was memorable for Brittany, and not just because she will graduate in May. In February, her court case was decided, and she won full custody of Logan.
After Brittany walks across stage in her graduation, she plans to fulfill one of her undergraduate dreams by studying abroad in London. Brittany will be traveling on a women's studies program in London, and Logan will be coming with her.
Brittany said that despite her struggles, she proved to herself she could make it to graduation, but there will be a financial barrier to her study abroad.
"The biggest thing is money," she said. "I've been applying to scholarships, I've been reaching out to whoever I can to see what money I can get towards this summer."
Brittany said she hopes to receive additional funding through her GoFundMe page, which she has shared with those close to her. She also shared her story with her church, Lansing Area Church of God in Christ, which she has already received some support from.
"I always wanted a British accent, and I couldn't get one because I didn't travel to London enough," Brittany said, jokingly. "I'm hoping that while we're gone for that month that he picks one up."
Brittany said she feels if she can conquer being in a new and different environment with Logan, it will motivate her to continue the rest of her educational endeavors.
"I ultimately want to go to med school, but I'm afraid," Brittany said. "I know for a fact I won't be able to take him to classes with me in med school. I just don't know how all of how this is going to play out, but I'm hoping for the best."
She said she plans to look for a new location to live once she makes her return from her study abroad in London.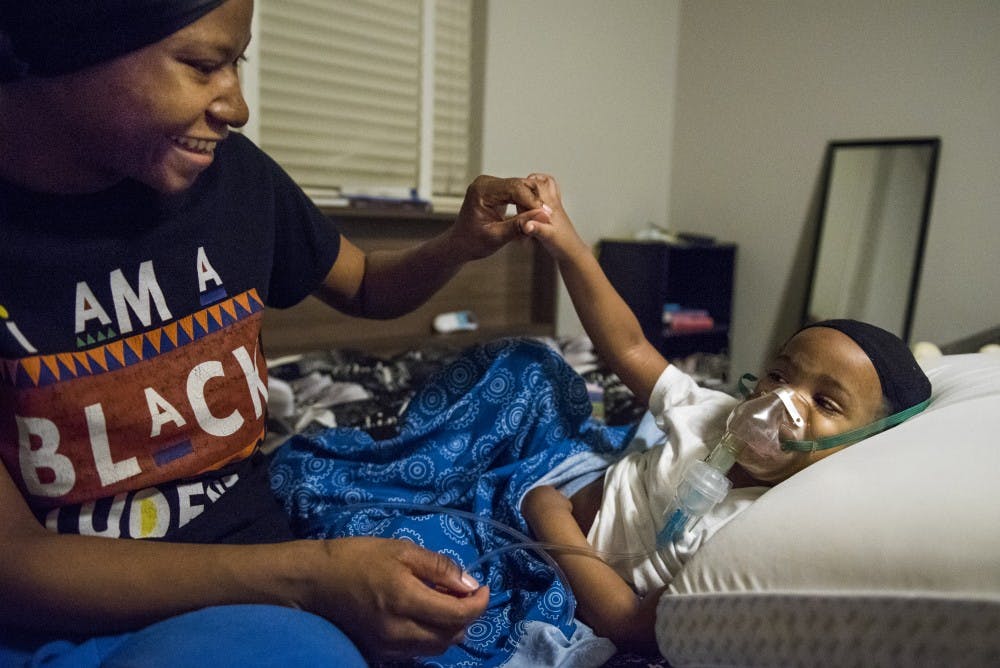 "I don't know where we're going … but I just know we're moving and wherever we go, it'll be somewhere I could potentially get into a med school," Brittany said.
Going to medical school would allow for Brittany to fulfill her passion for helping other people. She wants to give back to her roots.
"I want to have the knowledge of a person that could work in a very wealthy area, but help the urban people," Brittany said. "I just feel like because people go through life struggling, they shouldn't get mediocre health care."
Altogether, a life of giving is the key to happiness for her and her family.
"I want to actually do something that I love doing and that I can help other people while doing it; medicine is the only way that I really see that I can get all of my goals accomplished and still be able to support myself and my family."